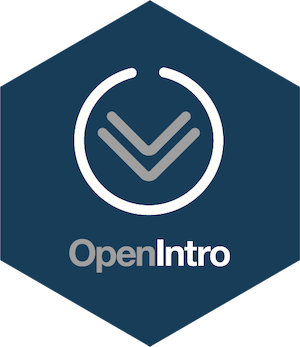 Elmhurst College gift aid
Source:
R/data-elmhurst.R
elmhurst.Rd
A random sample of 50 students gift aid for students at Elmhurst College.
Format
A data frame with 50 observations on the following 3 variables.
family_income

Family income of the student.

gift_aid

Gift aid, in $1000s.

price_paid

Price paid by the student (tuition - gift aid).
Examples

library

(

ggplot2

)


library

(

broom

)





ggplot

(

elmhurst

, aes

(

x 

=

 

family_income

, y 

=

 

gift_aid

)

)

 

+


  geom_point

(

)

 

+


  geom_smooth

(

method 

=

 

"lm"

)




#>

 `geom_smooth()` using formula = 'y ~ x'






mod

 

<-

 lm

(

gift_aid

 

~

 

family_income

, data 

=

 

elmhurst

)


tidy

(

mod

)




#>

 

# A tibble: 2 × 5




#>

   term          estimate std.error statistic  p.value


#>

   

<chr>

            

<dbl>

     

<dbl>

     

<dbl>

    

<dbl>




#>

 

1

 (Intercept)    24.3       1.29       18.8  8.28

e

-24




#>

 

2

 family_income  -

0.043

1

    0.010

8

     -

3.98

 2.29

e

- 4