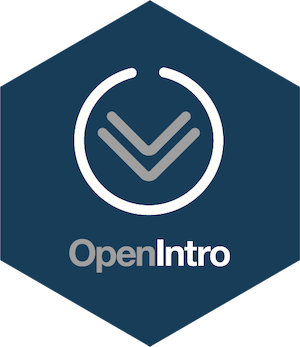 Changelog
Source:
NEWS.md
openintro 2.3.0
Added new datasets:
Fixed level names for variables in cle_sac
openintro 2.2.0
CRAN release: 2021-06-22
Added new datasets:

lizard_run and lizard_habitat (thanks Stephen Adolph!)
daycare_fines, biontech_adolescents, nyc_marathon, epa2021, duke_forest

Add tests for some of the new datasets
Better terminology: sex_discrimination
openintro 2.1.0
CRAN release: 2021-04-19
Added LazyDataCompression: xz to DESCRIPTION per CRAN.
Added new datasets:
Removed redundant prof_evals dataset
Updated email and email50 datasets to make indicator variables factors, remove variables that don't exist in the data from the documentation, and update the documentation for email50 to match the randomly sampled data
Updated orings data to require much less manipulation to do glm with
Updated epa2012 to have NAs for empty levels and updated documentation to describe the variables better
Updated documentation for births, ncbirths, babies, and murders for data provenance issues
Updated midterms_house to have party levels "Democrat" and "Republican" (not "Democratic")
Added two new objects for colors: openintro_colors and openintro_palettes
Added new functions:
openintro 2.0.0
CRAN release: 2020-07-03
Added a NEWS.md file to track changes to the package.
Consolidated openintro, oilabs, and oidata packages.
Updated all dataframe and variable names to use snake_case.
Turned data.frames into tibbles.
Simplified code in most examples to make it more accessible for the student audience for the package.
Added new datasets used in OpenIntro Statistics, 4th Edition.
Added new datasets used in new OpenIntro labs.
Removed package startup message.
Added dependency on the following packages: airports, cherryblossom, and usdata.
Moved run09, run12, and run19 datasets to the cherryblossom package.
Moved usairports to the airports packages.
Moved county_complete, county, govrace10, houserace10, prrace08, senaterace10, state_stats, urban_owner, urban_rural_pop, vote_nsa datasets and state2abbr and abbr2state functions to the usdata package.