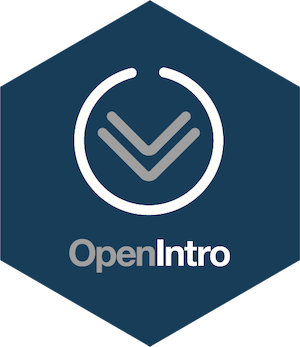 Authors and Citation
Authors
Mine Çetinkaya-Rundel. Author, maintainer.

David Diez. Author.

Andrew Bray. Author.

Ben Baumer. Author.

Chester Ismay. Author.

Nick Paterno. Author.

Christopher Barr. Author.
Citation
Source: DESCRIPTION
Çetinkaya-Rundel M, Diez D, Bray A, Kim A, Baumer B, Ismay C, Paterno N, Barr C (2022). openintro: Data Sets and Supplemental Functions from 'OpenIntro' Textbooks and Labs. http://openintrostat.github.io/openintro/, https://github.com/OpenIntroStat/openintro/.
@Manual{,
  title = {openintro: Data Sets and Supplemental Functions from 'OpenIntro' Textbooks and Labs},
  author = {Mine Çetinkaya-Rundel and David Diez and Andrew Bray and Albert Y. Kim and Ben Baumer and Chester Ismay and Nick Paterno and Christopher Barr},
  year = {2022},
  note = {http://openintrostat.github.io/openintro/, https://github.com/OpenIntroStat/openintro/},
}